Michael Van Hal, MD
Orthopedic Spine Surgeon in Dallas
Biography
Michael Van Hal, M.D. is an Assistant Professor in the Department of Orthopedic Surgery and an Orthopedic spine surgeon at UT Southwestern's Multidisciplinary Spine Clinic.
He earned his M.D. at UT Southwestern Medical Center and completed his residency in Orthopedic surgery, and did his intern year in Keck School of Medicine of USC and later transferred his programs to the University of Pittsburgh Medical Center. He then received advanced training in spine surgery through a fellowship at Harvard Medical School and the Beth Israel Deaconess Medical Center.
"I am proud to be a part of the Spine Clinic," Dr. Van Hal says. "I think multidisciplinary spine care is really the best way to treat a patient when focusing on improving his or her health. Surgery has the best outcomes when done for the right reasons."
Dr. Van Hal is a member of the American Academy of Orthopedic Surgeons and the North American Spine Society. In 2010 he received the Ho Din Award, for being valedictorian of his medical school class.
As an Orthopedic spine surgeon, Michael Van Hal, M.D. treats a variety of spine pathologies, including degenerative conditions, acute disc herniation, fractures, and deformities. The role of Orthopedics in changing people's lives, often dramatically, is what drew Dr. Van Hal to the discipline and eventually led him to specialize in spinal care.
"There's something special about taking care of people and seeing them get better," he says. "Spine surgery done for the right reason has some of the best results."
Dr. Van Hal's goal as an Orthopedic spine surgeon is to get patients the right treatment so they can get back to their normal routine as soon as possible. Whether surgery is an option, with his skill and expertise he can give patients an excellent start to getting back on their feet.
"Spine surgery is not always what's needed," he notes. "In fact, most back and neck issues can be treated nonoperatively. Our multidisciplinary spine center can get people the care they need, whether it's surgical or nonsurgical. Either way, we try to treat the problem in the least invasive way possible and ultimately save surgery for those who do truly need it – which leads to happier patients."
Dr. Van Hal's research revolves around degenerative disc disease and what causes it. He is also helping build a registry system that tracks patients' progress over time.
Education and Training for Dr. Michael Van Hal
Medical School
UT Southwestern Medical Center (2010)
Internship
Keck School of Medicine of USC (2011), Orthopedic Surgery
Residency
University of Pittsburgh Medical Center (2015), Orthopedic Surgery
Fellowship
Harvard Medical School/Beth Israel Deaconess Medical Center (2016), Spine Surgery
Awards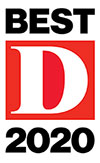 Congratulations on being named one of D Magazine's 2020 Best Doctors! On behalf of everyone at D Magazine Partners, your patients, and the rest of the city, we thank you for making Dallas an even better place to live.